Mindful Living/Personal Development 
The Art of Getting Unstuck
SM
Dear Amazing Women pulled in a million directions,
overwhelmed with stress, guilt, and a never ending to-do list,
I will show you life-changing, Mindfulness/Self-Care/
Creative Tools to free you from your rules, fears, habits and
doubts so you can live your best life, now.
Yes.You.Can.
I know you.
You're awesome! &
You feel exhausted, like you're letting everyone down.
You want to feel more peaceful and at ease.
You're overwhelmed with stress and a never-ending To-Do list.
You feel stuck in a rut—hopeless about making changes, like nothing will ever work for
you!
You often feel hungry for something you can't name.
You feel disconnected from yourself.
You don't make time for yourself; you have no real structure for Self-Care.
You crave new tools to ground you, guide you, calm and nourish you.
You want to live your best life.
You're ready to do things differently—to grow and thrive!
You're ready to make fresh, self-loving choices in the present moment.
You want to learn to say YES to You more—to your truths, your needs, your values.
You dream of having a meaningful, peaceful, joyous, life.
I CAN HELP YOU:
Live everyday with calm, courage, compassion and clarity.
Bring a sense of curiosity, play, adventure and discovery to every moment.
Experience your life in a kinder, more playful, more holistic way.
Yes.You.Can.
My beautiful friend,
I've been right where you are now, and, I promise—
Whatever struggles, setbacks, or shame you've experienced, truly, truly—
I've been there — done that!
MY EVOLUTION STORY:
Even though—
I had healed my relationship with food, body and weight,
and learned to practice daily Self-care,
Too often, the voice of Fear stopped me.
In many big and small ways, I still didn't trust myself.
Often, even small steps felt enormous and scary.
I wanted to live an even bigger life—-yet—
There were moments when I felt frustrated and stuck—
like I couldn't get out of my own way.
Can you relate?
One day, I took a deep breath and a risk. 
I remember that day so clearly.
I was living in Michigan. It was winter.
We'd just had a big snow, but the sun was strong,
and the white cover was melting quickly.
As I did most days, I walked to the nature center near my home.
It was a small place, protected land in the middle of a subdivision.
There was a pond where I often sat and watched a Great
Blue Heron make mindful steps across the shallow water.
There was a wooded area circling the pond.
I never went in there. These were not dense woods, not dark,
and yet, daily, my mind sent my body "Warnings."
Dangerous! Don't go in there! Terrible! Horrible!
The Mind made a, Do Not Cross Line, and for so long,
I had obeyed it.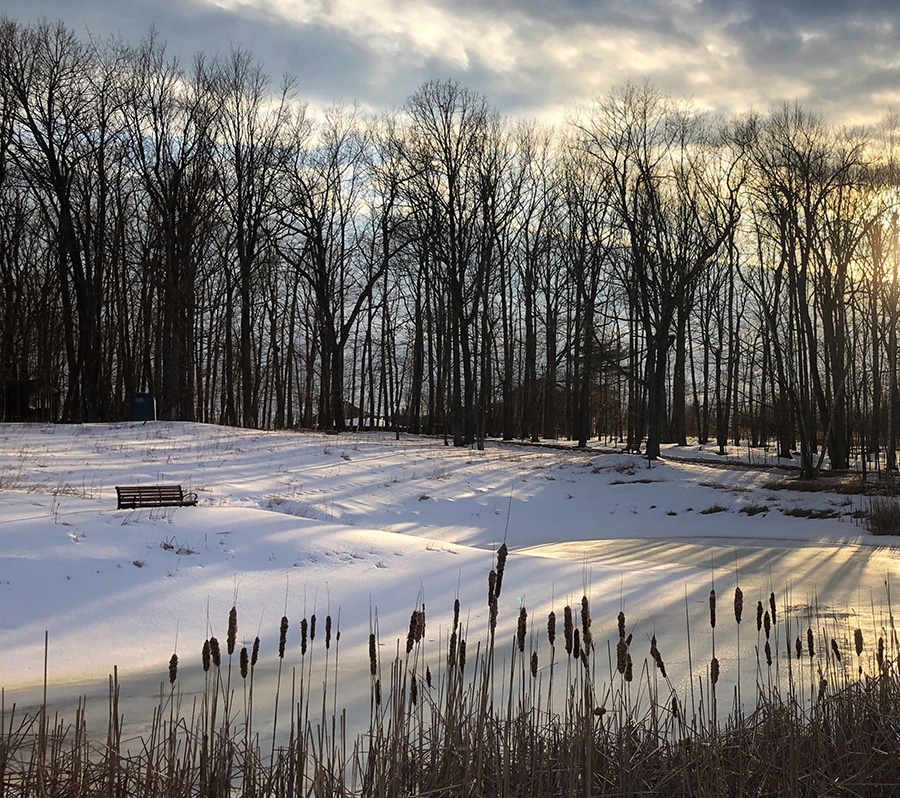 On this day, for the first time, I felt a strong pull to enter and explore.
I stood, eyes closed.
Felt the sun, warm on my face, heard the click of red-winged blackbirds and the coos of doves.
I looked in. I saw nothing dangerous.
What if, I thought? What's the worst that could happen?
I took a step, and then another. Sunlight hit the tops of trees, the melting ice and snow sparkled.
I noticed a tree stump just ahead, and sat cross-legged on it.
I breathed in the smell of cedar and snow, listened to ice melting. Tink! Tink!
I felt safe, and deep in my body, I knew, The Mind was wrong.
There was absolutely nothing to fear.
In that one moment, I let experience in-the-moment, rather than fearful thinking be my truth.
I had taken a tiny, courageous step.
Away from the yapping of my fearful, spinning mind,
Away from reactive patterns and habitual behaviors.
Instead, I leaned towards Self-Care, curiosity, my heart, joy and peace.
That one, tiny, courageous step was a seed planted where future seeds could grow.
This day, entering the woods, was my first Mindful Meditation.
It led me to a wonderful Mindfulness Teacher, and to a meditation group.
I would study with this teacher and sit with this group for the next 4 years.
Mindfulness changed my life.
Gave me a portable tool useful in every moment,
every situation, even the most challenging times.
It also became the center of the The Art of Getting UnstuckSM
process which I practice and teach.
And I continue to grow and evolve through the meaningful work
of guiding my clients in their own transformation.
NEED MORE CLARITY? LET'S SCHEDULE A CALL TO DISCUSS.
"Just where you are, that is the place to start."
~Pema Chodron
THE ART OF GETTING UNSTUCK SUCCESS STORIES
"When I started working with Susan, my life was a jumble of shoulds, have-tos and
musts. I felt that the demands of success, family life and my own internal dialogue were
dragging me around by the nose. I was exhausted, disconnected from my body and full
of anxiety.
Through the mindfulness work that Susan has taught me and guided me through, I
have found my way to the incredible experience of living my life rather that merely
surviving it. While the demands of business and home haven't lessened, my
relationship to them, as well as to food and my body have been radically transformed.
At once wise, practical and consistent,
Susan has guided me on a path of healing my weary mind and body and a journey
home to myself. Now that I have arrived here, at home in the seat of my own heart, I
am beginning to see a much greater and more delicious journey unfolding and am
deeply grateful to have Susan as my teacher and guide for what lies ahead.
~ Stephanie
"Each time I speak with Susan I am left with a feeling that is difficult to explain...
but it reminds me of how Snoopy must feel when he does his dance!
I have come to her in the darkest times of my life and she has helped me laugh again.
I have come to her when I'm coming apart and she has helped me feel whole again.
Susan listens to me and understands. She gets me. In every meeting, she reflects back
to me something so valuable—it's like a lightbulb goes off!
She is a wise teacher and compassionate friend. Susan has given me tools to help
move through those really hard moments: Mindfulness Meditation, Metta,
visualizations, breathing exercises, drawing meditations, and so much more. I feel much
lighter and calmer. I'm laughing so much more. I have learned to love myself again.
Susan is amazing! "
~ Christina
Ready to stop struggling?
I want to teach you another way, a kinder, more playful, more holistic way
to live.
The Art of Getting UnstuckSM is a unique, effective and gentle
holistic process that frees you from your rules, fears, habits and
doubts so you can live your best life, now.
We'll focus on deconstructing old, outmoded habits, patterns,
thinking, & behavior, and build new behavior, new tools, a new
path for your best life.
Shift your life gently with slow steps & small changes.
Using Kindness, Self-care, Mindfulness, & Creative Play, I will help You
to truly show up for yourself.
To recognize and own-your truths, your Values, your needs, your
dreams, and respond to them with a big,
Hell Yes!
You will learn these Tools not Rules:
Learn to respond to YOU—lovingly, compassionately, authentically.
Build freedom and self-confidence.
Practice living in the present moment.
Work consciously to shift reactions to stressful thoughts and emotions.
Create a personalized Self-care toolbox—daily practices and pastimes
that deeply engage, ground, nourish and restore you.
Become aware of what nourishes you, lights you up, and what is stressful/depleting.
Practice and get comfortable saying NO, setting appropriate
boundaries, moving away from the need to please.
Befriend yourSelf—Stay on Your Own Side—Shift from what you're
supposed to do to what feels right for YOU to do.
Learn about yourself— What makes you happy? What do you love?
Where do you feel stuck or afraid? What holds you back from inspired
action?
Learn how to work with procrastination, doubt, perfectionism (fear),
stuck-ness.
Engage differently w/your snarky inner critic so you can get unblocked
and Make Your Authentic Moves.
Deepen your ability to show up and focus on creating...Anything.
Let me teach you another way. A kinder, more playful, holistic way.
For over 30 years, as a Mindfulness Specialist and a Personal Growth and Development Coach, I've been helping others who have felt just the way you do now, create happier, calmer, more intuitive lives.
I have a gift for helping you shift your experience from shame, frustration, frenzy and self-doubt—
to clarity, calm, confidence and compassion.
THE ART OF GETTING UNSTUCK SUCCESS STORIES
"Susan has taught me to be 'aware'. A seemingly simple task/concept
has changed the way I'll live the rest of my life.
Staying in the moment and being conscious of myself both
physically and emotionally has allowed me to choose
what's truly best for me. Taking life one day at a time
and not judging or predetermining
an outcome, has lessened my feelings of worry and regret.
I'm allowing myself to confidently 'peel away my layers'
and accept balance.
Susan's approach is very clear, never overwhelming.
I look forward to being able to live the rest of my life with the lessons
Susan has passed on to me."
~ Julia
"Our meetings are so helpful.
I always leave feeling more balanced,
more myself, more at peace." 
~ A.
"Susan changed my life.
She taught me to be still, to listen to my body, to love and accept myself,
letting go of perfectionism and embracing who I am.
I am present in my life again, experiencing it fully, and so grateful."
~ Jacqueline
Ready to stop struggling?
I'd love the opportunity to work together.
Are you hungry for someone who is there for you?
Someone who truly listens and understands?
I'm here to guide you, every step of the way.
My promise to you:
During our sessions, you'll receive my undivided attention in a compassionate, 1:1
relationship.
I will support and encourage your mindfulness, growth,
experimentation and gentle shifts in behavior.
I will deeply listen, hear and understand you and your needs.
I will provide you with practical tools that allow you to get to your,
Yes.I.Can.
There'll be support for you when you backslide,
get stuck in gum, mud, or your spinning mind.
Cheers when you take a step out of old habits and fearful "rules"

into peace, power, joy and clarity.
The Art of Getting UnstuckSM is perfect for you if:
~ You want to learn/practice Self-care.
~ You want to be happy. To thrive.
~ You want to play more, give up perfectionism. Develop your talents. Open to your dreams.
~ You want to trust yourself and your choices.
~ You're tired of feeling stressed, guilty, pulled in a million directions.
~ You want peace, freedom, and time to focus on and do amazing things.
~ You want to become braver, kinder, clearer and more confident.
~ You're ready to accomplish more and suffer/struggle less.
~ You're ready to believe in yourself and your ability to create and live a different life—
a more joyous and meaningful life.
~ You're ready to say ByeBye to old, outmoded habits, patterns, thinking, & behavior.
~ You want to learn from someone who is an Expert, who has
been where you are now, and created an accessible, successful new path forward.
If you answered YES to any of these, WELCOME! You're in the right place!
I'd love the opportunity to work together.
THE ART OF GETTING UNSTUCK SUCCESS STORIES
"It wasn't until I began working with Susan
that I started to feel hope for a happy and peaceful life.
I am not only healing my relationship with food and my body,
but altering my entire life to reflect the person I really am.
With Susan's gentle guidance and intelligent insight,
I am able to make kinder choices to facilitate a life with peace.
I am forever grateful for finding her!"
~ Tiffany
"I used to be a hot mess, but now I'm awesome!"
~ S
What if you had 1:1 support to stop struggling and finally get unstuck?
The Art of Getting UnstuckSM Mindful Living &
Personal Growth and Development
Is a personalized process. Not a program.
All coaching is private and completely individualized.
We work by phone and through email.
1-hr. individual meeting $185.00
A 1hr. stand alone call.
If you decide you want to do ongoing coaching with me,
we can use this session and investment toward the
remainder of the 4-month package.
4-month, ongoing, individualized mentoring: $1200
Your 4-month package includes:
8, 1-hr phone meetings
Emails between meetings
A custom tailored, personalized process.
Clear Information and tools that you can immediately implement.
Action assignments, accountability, and practices to get you to your Yes.I.Can.
Inspiration, and compassion.
Mindfulness Coaching.
Meditations.
Creative Exercises.
My 30 + years of knowledge, experience, caring and support.
Mentoring from a guide who has been exactly where you are right now and has walked the path to healing.
Susan Weiss Berry, MS, MFA, CHHC is a gifted Nutrition Counselor,
Certified Holistic Health Coach, Mindfulness Specialist, Writer, Painter,
and creator of Evolved EatingSM , The Art of Getting UnstuckSM and Painting Makes Me BraveSM.  
She's helped hundreds of clients recover from eating disorders, chronic dieting,
Mindless Eating/Living and weight and health issues. Using her decades of meditation experience,
as well as her own recovery, she teaches clients to gain insight into their own behavior,
increase their self-acceptance and reconnect to their innate mind-body wisdom.
Her humorous, compassionate approach has been described as both practical and profound.
Susan has written for and been quoted by Runner's World, Cosmopolitan Magazine,
The Detroit Free Press, The NY Daily News, Columbia University News Wire Service,
and numerous on-line publications.
THE ART OF GETTING UNSTUCK SUCCESS STORIES
"Susan completely changed not only the way I look at my life, but my
interactions, my challenges at work, and my feelings. Working with her
gave me the courage to pursue a promotion at my job, and later to quit
my job and start my own business.
Through working with Susan and using the Mindfulness tools, I became
more comfortable with who I am. Everything shifted. As I go through the
journey of running my business, I continue to use the Mindfulness skills she
taught me to meet the challenges that come up as part of life, and as part
of evolving into a different version of myself.
I highly recommend Susan. She is a large part of why I am able to function
and feel happy and content in my life, why I have amazing relationships,
and have built a life I love. I definitely recommend Susan, and hope to
know her forever."
~Nicole Jackson
"What's different about Susan is that she wholeheartedly believes
in the things we talk about
and her fundamental goal is self-love."
~ MM
"Susan has helped me see things from a different perspective.
She does not tell me how to solve my problems, but gives me the tools to
solve them myself, and the support to persevere in this often trying
endeavor.
The tools can take the form of metaphors, visualizations, practices, or
exercises, and they are always presented in a gentle, non-threatening, yet
effective manner. I feel so fortunate that I am able to work with Susan,
despite being hundreds of miles away, and look forward to continuing our
efforts together, perhaps even face to face someday!"
~Rebeccah