PAINTING MAKES ME BRAVESM
INTUITIVE ABSTRACT PAINTING CLASSES
Dear Wish I Were Creatives,  Shadow Artists (artists in hiding), & Late Bloomers,
Put down your fear and
pick up the brush!
Yes.You.Can.
I will show you how to jump-start &
nourish your Awesome Inner Artist.
Yes, I know you.
For years, you've been so busy with your life—work, kids, home—
You've been postponing your hungers, your soul.
Your dreams.
For years, you've been telling your Creative Self, later, soon, someday.
In your heart, you're longing to create, but …
You believe you're not really creative.
You say you have no time.
Your palms get sweaty at the thought of picking up a brush!
You have a million ideas, but not much confidence.
My creative friend,
I've been right where you are now.
For years, I was a Shadow Artist, too.
I grew up thinking I did not have a single creative bone in my body!
It was out of grief that I turned to painting.
I was going through an awful time. In a 2-yr. period, four, life-long friends and then my best friend died.
After writing and publishing for over 20 years, I reached a place where words no longer allowed me to access and share my deepest feelings.
I craved a more embodied form of personal expression.
So, I began playing with paint.
Although I had never held a paint brush, taken a class, or had any fancy art supplies, one night, I took the leap!
In a wild release, I smeared paint across a piece of xerox paper with a credit card. I smooshed it with my fingers.
I just let go and let myself play—it was exciting, invigorating, amazingly delightful, releasing and fun!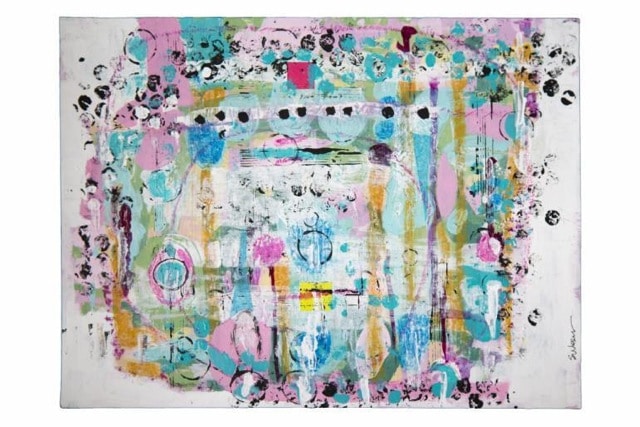 Painting was medicine for my heart/soul.
It strengthened me, restored my voice. It brought my life more joy, passion and purpose.
Painting became my spiritual path for mindfulness, self-care, play and healing.
We are going to play this way, together!
Need more clarity? Let's schedule a call to discuss.
When you paint, you're writing a story.
Your story, your personal narrative. And each layer is another page.
In the Painting Makes Me BraveSM  process, you add and subtract.
Build layer after layer to create a deep, rich, unique story.
Painting is an active, embodied creativity, a way you can release emotions, feelings and energy.
A way to understand what's truly important to you.
This process is a way to calm yourself and at the same time invite joy.
It's a way to be mindful, present.
To learn to be loving and accepting.
To appreciate that, there are absolutely no mistakes.
Only experiments and experiences— and it's all good!
Here's the truth:
There's an artist inside of you, too,
waiting to play,
wanting to get her hands dirty,
make a mess, express herself.
So, what's holding her back?
The, Yeah, buts!
Those swirling stories of doubt, fear,
I'm not good enough/talented enough,
I have no time, what's the point?
The point is:
When you make art, good happens in you!
You are strengthened.
You become braver, more willing to risk.
You challenge "rules," doubts, fears, & that snarky inner critic.
You learn―
to show up, play, experiment,
make decisions, work w/the critic, with doubt & fear,
connect with your own authentic voice,
learn what you love, and learn what to let go of.
When you make art, you stretch, open and grow;
you heal and evolve. Good things!
"I felt completely safe & free to be the authentic, creative, & playful me.
The workshop showed me that creating, exploring, being silly, & being present can be safe & fulfilling.
Thank you!" ~ Lisa
What if you had 1:1 support to
Shift your life through the power of creativity.
Awaken and heal your inner artist.
Learn about yourself— What makes you happy? What do you love? Where do you feel stuck or afraid? What holds you back from inspired action?
Learn how to work with procrastination, doubt, perfectionism (fear), stuck-ness.
Engage differently w/your snarky inner critic so you can get unblocked and Make Your Authentic Moves.
Deepen your ability to show up and focus on creating…anything…
Use creativity as a path for mindfulness, self-care, play and healing.
Ready to play?
I'd love the opportunity to work together!
I'm here to guide you every step of the way.
I welcome your open heart, open mind, and messy hands!
Join me for a Painting Makes Me BraveSM class.
"Susan has so many great ideas
and is a phenomenal teacher of mindfulness, lightness, and play!
This reinvigorated a bit of "sparkle" and lightness in my life
and I look forward to the next one." ~ Erin O.
This class is perfect for you if:
You've always been curious about painting and creativity, but have not yet taken a class.
You painted years ago and became frozen or discouraged. You stopped painting and would like to start creating again.
You've been craving a creative past time that you can deeply engage with.
You're working through issues like an eating disorder, recovering from illness, moving through grief.
This I know for sure—Art provides a big, beautiful space in which to heal.
I'm here to give you permission to say YES to you!
Say YES to your curiosity and interest, by setting up a time to meet and play.
We're going to turn off your thinking mind, and just—jump in, make a mess, play, and discover!
Painting, making art, is a meditation, a daily practice of showing up, challenging doubt and fear, and learning to trust yourself. Art is a Healing.
As you continue to show up and play with paint, you will receive all the same benefits you receive from yoga or meditation or walking.
You will feel healthier, happier, more grounded and present.
You will notice that the more you create, the more you are healing, mentally, physically, emotionally, spiritually.
Painting will become your haven, a space that you can go to any time, to reconnect to yourself, the moment, and to joyous creative energy.
Painting Makes Me BraveSM
Intuitive, Abstract Painting Classes
Let's spend some time playing together, experimenting, making a mess, and breaking through your rules and fears. No experience necessary!
2-hr. Individual, Intuitive Painting Classes
in Northampton, MA.
$140 + $25 for materials.
Duet classes: 3hrs each
Bring your friends or family for an afternoon of connecting, celebrating a special occasion, making beautiful memories.
2 people: $125.00 each + $25 total for materials for 2
3 people: $115.00 each + $25 total for materials for 3
Virtual Classes: Not in my neck of the woods? No worries!
Connect via FaceTime or Facebook Messenger
90 minute 1:1 Virtual Class: $105.00
Package of 3 Virtual Classes: $295.00 (expires in 6-months).
Material list to be furnished.
In each of these workshops you will—
Receive gentle guidance and practical, playful step-by-step support.
Create your own, personal marking alphabet, paint a story in layers, experiment with collage.
Develop abstract art-making skills through experimentation.
Work with a limited number of paint colors so that you don't feel overwhelmed.
Become more confident at making choices/decisions and also at letting go.
Listen to your intuition, experiment & take risks, ignore the critic, keep going. Follow your Heart. This is how painting makes you Brave!
Use creativity as a path for mindfulness, self-care, play and healing.
Jump in, make a mess, play, and discover!
Create paintings that surprise you and make you smile!
"I had the wonderful opportunity to have Susan lead me through an abstract art lesson via FaceTime.
It was so great! I was a bit apprehensive at first, as I have not painted this way before,
yet Susan quickly calmed my nerves with her kind, supportive attitude.
She led me through the process step-by-step, encouraging my progress along the way!
Her calm, playful approach made it very fun! It was a pleasure creating art with Susan,
and I look forward to doing it again." ~ Celeste
It's always good to know a little bit about your potential mentor,
so here are some highlights about me:
I'm an Intuitive, Abstract Painter. I teach individuals and groups how Be Brave and Paint!
I love playfulness, experimentation and surprises.
I paint on wood, canvas and paper, using acrylic paints and mediums, inks, pencil, graphite, paper and fabric.
Multiple layers allow for change, transformation, as I build up chapters of narrative.
Each painting is a journey, an intimate conversation; moments of action, moments of reflection.
Native New Yorker, I've lived happily on both coasts and several states in between.
BS in Education, MS Nutrition, MFA Creative Writing, Mills College, CA.
Mindfulness Coach 30+ years.
For over 20 years, I wrote & published short fiction & non-fiction.
When I felt dry or stuck, I'd scribble crayon drawings, or doodle with colored pencils, until I could find the words.
This lead me to play with watercolors, then acrylics, and I was swept away.
I find painting endlessly fascinating, mirroring and meditative.
Mostly self-taught, I've had the pleasure of studying with amazing artists: Nicholas Wilton, Nancy Hillis, Ardith Goodwin, Micheal Cutlip.
The good news:
It's okay to be scared! "Feel the fear and do it anyway!" It's never too late—to take the leap!
"Susan! I just had a beautiful connection to the way of it with this process! The paintings are layer upon layer upon layer and there's this process that you go through and you don't know how it's going to turn out but you just do the thing that shows up, the next whatever it is and sometimes it's heinously ugly and sometimes it's absolutely beautiful and yet, not the finished product.
But the takeaway! The real takeaway, the real oh my goddess takeaway, is that once it's finished and you're ready to move on, it feels intensely satisfying to look at the painting. It is not necessary to dig underneath to see how all the layers got you to the place of this. This visceral Satisfied. It is enough that the layers contributed to the final rendition of the creation.
It also doesn't matter one bit whether any other set of eyes on it find it as exhilarating and joyful to look at as I do. It is enough that my own heart leaps when I see it." ~ Deborah
"What art offers is space - a certain breathing room for spirit"
John Updike
Painting Makes Me BraveSM
Is not about making great art, although you might.
It's not about making something beautiful,
although that's how it might turn out.
It's about PLAY—about experimenting and seeing what happens.
About letting curiosity and your heart lead.
Practicing being content with the mess; not always knowing.
We're going to start together.
As a writer, painter, meditator and coach for over 30 years,
my joy is in helping YOU find practices that nourish you,
bring you to life, and energize you.
To help you find a place that you can come to, inside of yourself,
where you find peace, joy, growth, healing & nourishment—
This is my joy.
I am so happy to share these creative tools with you!
I welcome your open heart, open mind, and messy hands!
And remember,
Painting Makes You Brave!