"Every act of Self-care is a powerful declaration ~
I am on My Side."
~ SW Berry
30+ years as a Mindfulness Coach.
NYC native.
Chocolate lover.
Painter, Writer,
Spiritual Eclectic.
Fellow traveler on this wild, bumpy ride.
Whatever struggles, setbacks, or shame you've experienced with food, body, or life,
truly, truly—
I've been there — done that!
Wherever you're feeling scared, stressed, frustrated or dissatisfied,
I can relate.
I care deeply about helping You create what you love—
Whether that's Art, or joyful, confident relationships with eating, food, body, life.
"Honestly, it's about learning how to trust yourself."
I'm a work in progress.
For over 40 years I've been on a journey of Creating, Nourishing and Evolving.
Learning to truly take care of myself, to trust my (true) Self and live authentically.
I Evolved over time, by taking small courageous steps, in sudden, daring moments.
Each time, I was terrified. Each time, I challenged my fear.
First, over several years, I healed my issues with food, body and weight.
Next, I began moving, slowly becoming physically stronger and more at home in my body.
I pursued spiritual knowledge, then Mindfulness, Creative Writing and later Painting.
Each of these paths: Movement, Writing, Art, and Mindfulness, took me into the unknown.
Each challenged me to trust mySelf, use my intuition, relax into the moment.
Each let me practice patience, face the Critic, doubt, the unknown, and my fears.
Each connected me more deeply with myself, and life.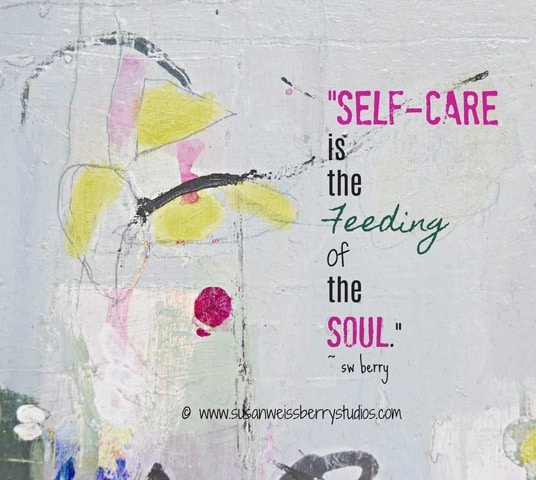 Susan Weiss Berry, MS, MFA, CHHC is a gifted Nutrition Counselor,
Certified Holistic Health Coach, Mindfulness Specialist, Writer, Painter,
and creator of Evolved EatingSM , The Art of Getting UnstuckSM and Painting Makes Me BraveSM.  
She's helped hundreds of clients recover from eating disorders, chronic dieting,
Mindless Eating/Living and weight and health issues. Using her decades of meditation experience,
as well as her own recovery, she teaches clients to gain insight into their own behavior,
increase their self-acceptance and reconnect to their innate mind-body wisdom.
Her humorous, compassionate approach has been described as both practical and profound.
Susan has written for and been quoted by Runner's World, Cosmopolitan Magazine,
The Detroit Free Press, The NY Daily News, Columbia University News Wire Service,
and numerous on-line publications.
My three signature packages evolved out of My Creative Evolution.
I invite you to have a look and see if one of them resonates with you.